CAMPGROUND
Come and relax. This is nature without the fuss
Campground Information
Our campground is nestled in mountainous terrain and does not have car access. We are located on the Fishkill Ridge 5+ miles from the Beacon Train Station. Campers hike into our campground through one of three access points. To get to an access point, there are 2 options: backpacking in on your own or by Selecting the transportation Option for our shuttle. You can also bike into our camp office, and hike in from there.
To be shuttled into one of our three access points, make sure to select the "Transport round trip" option at checkout. This also includes transporting your gear and leaving it at your campsite while you hike in. Shuttles conveniently pick up at the Beacon MTA Train Station and run Monday – Sunday on the hour. The last shuttle pick-up is at 4 PM daily and at 11 am on Sunday.
Whether traveling by car or train, we encourage our campers to visit the Getting Here page for more information. Find details on what to expect upon arrival, tips on what gear to bring, and directions. We've provided the best routes to the Beacon MTA Train Station from both the North (Albany) and South (NYC).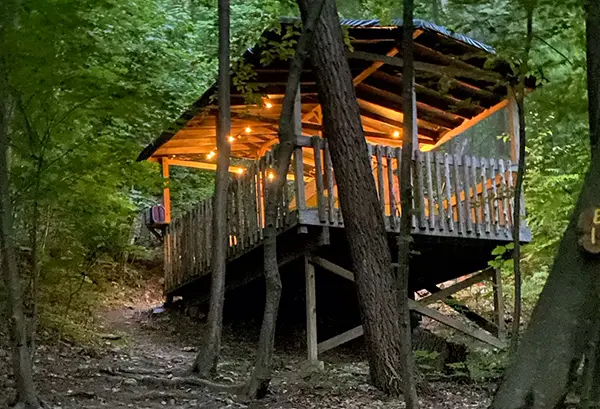 Primitive or Platform?
We have just the right campsite for you. Our platform sites give you a little extra shelter and comes standard with a chowbox which holds all the cooking equipment you will need for your stay while still offering an authentic camping experience. Our primitive sites are great for those more hearty campers who have their own gear and tents. There is no electric on either type of site, however there is electric at the bath house and vending area. All water in our camp is drinkable. We have Free WIFI at our common picnic area.
Check out our list of what comes with each type of site, and what you should bring, and we look forward to seeing you, here!
Our Bathhouse
Clean, well-equipped bathroom and showers make a huge difference when camping. We know it is important to you that you have that little luxury when out in the woods, and we pride ourselves on our facilities. Wait until you see the bathhouse – hot showers, flush toilets, sinks for hand washing, and utility sinks for dishes. There are two dryers in case your gear gets wet! Check out our image gallery to see some great pics.
Getting Here
Whether coming from the south or north, enjoy a scenic train ride on the Metro North Hudson River Line, or you can choose to drive and park at the Beacon Train Station. Due to the mountainous terrain of our campground there is no car access. From the Beacon train station we will take you to the hike of your choice. Please remember to wear sturdy shoes. Hikes range in duration from a half an hour to five hours. While you hike in to the camp, enjoying the spectacular views, we will be transporting your gear to the campground and place it at your site for your convenience.
Upon arrival, the first thing you'll notice is the privacy of each site. Our sites are 50-60ft. apart with brush and trees in between them. All you'll have to do is unpack and enjoy the nature we have in store for you.
Campsite Rules / General Rules
No pets.
Two adults and two kids per site.
Quiet time is 10 pm to 8 am.
Do not move fire rings.
No fires outside rings.
Do not cut or mar trees.
Keep area of site and campground clean.
For transportation purposes, no open bags (plastic, shopping, purses, or beach bags), all personal items needs to be contained.
All campers must be 21 or accompanied by a parent.
Indian tanks are for emergencies only.
All campers must check in before dusk.
All visitors must be off property 30 minutes before dusk.
Waves or nods are necessary, smiles optional.
Leave your troubles behind.
No glass on premises.
Sit back and relax.
Music must be at a level that is only heard at your site.
When selecting options for luggage transport your entire group must select the same option. Hiking in carrying gear or paying us to have gear moved.